A vaccine for all nations should be global focus
---
The push to find a vaccine against COVID-19 is often depicted as a race between companies, or between countries, or even between science and a virus, or between biotechnology and immunity.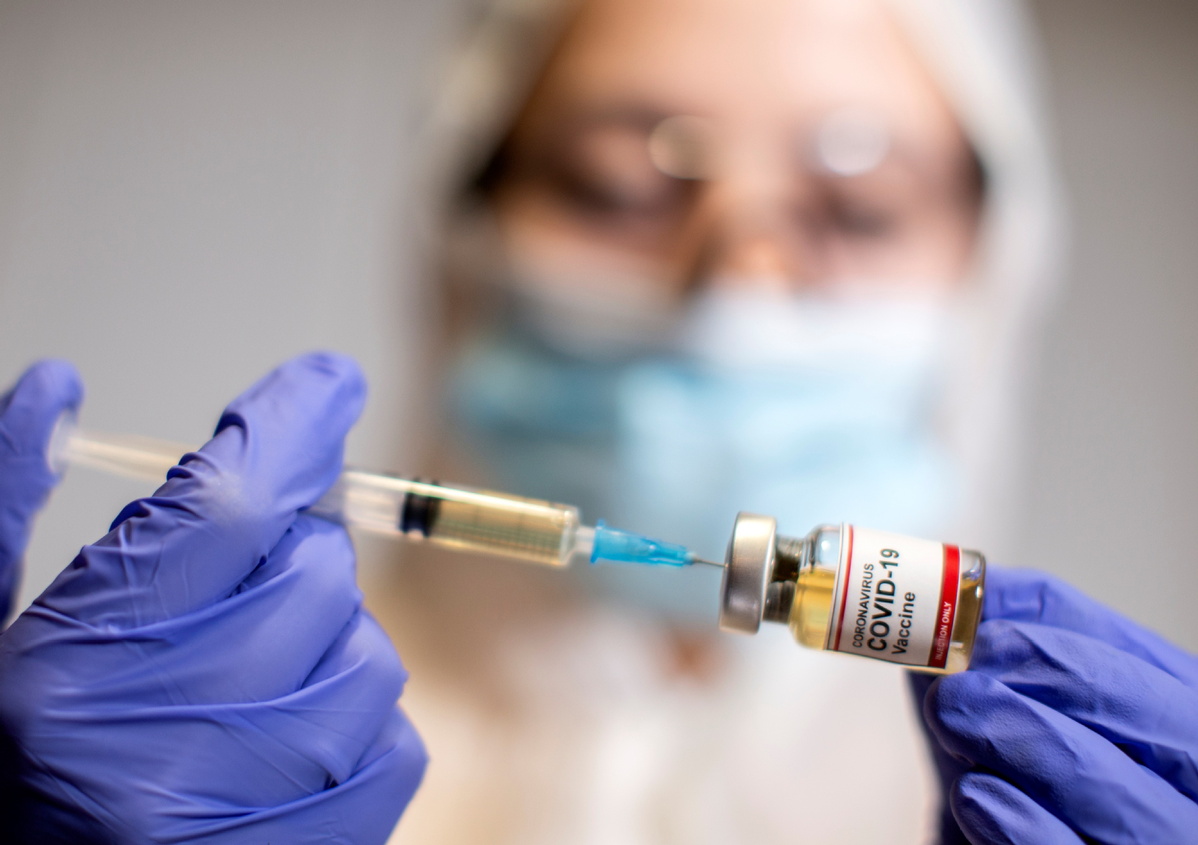 A woman holds a small bottle labeled with a "Coronavirus COVID-19 Vaccine" sticker and a medical syringe in this illustration taken Oct 30, 2020. [Photo/Agencies]
  The push to find a vaccine against COVID-19 is often depicted as a race between companies, or between countries, or even between science and a virus, or between biotechnology and immunity.
  This idea of a race with winners and losers may be a handy metaphor, but it may also be counterproductive. In any race, there is one winner and a whole bunch of losers. Follow that train of thought and the result is a winner with a population protected against COVID-19 and a whole bunch of losers that are left to dangle in the wind.
  This idea of the race is embodied in the visible trend of vaccine nationalism, which has led countries to commit hundreds of billions of dollars on vaccines that have not even been developed yet. They are spending that money to secure doses of vaccines for their own populations first.
  This, according to the World Health Organization, could slow down the effort to come out on the other side of this pandemic as countries fend for themselveswith rich countries likely doing it better than poorer ones. Vaccine nationalism could slow down the global economic recovery and keep travel disruptions in place for much longer.
  The only way to really do away with COVID-19 and return to normalcy-dining out, all children back in school, a resurgence in travel and tourism, the occasional party-may be through a coordinated and thought-out approach to vaccine distribution.
  Effective multilateral efforts may be the only way for everyone to truly overcome COVID-19, not just those who can afford a vaccine or to dole out trillions of dollars in stimulus measures to shore up their economies.
  There is a multinational effort underway to facilitate the global distribution of COVID-19 vaccines once they are available. The COVAX initiative is being led by the WHO and Gavi (the Vaccine Alliance), along with the Coalition for Epidemic Preparedness Innovations. Once vaccines become available, COVAX aims to purchase 2 billion doses for global distribution.
  The goal of COVAX is to provide vaccines to 3 percent of the population of each member country that is most at risk and to share the costs of research and distribution between developed and developing countries.
  China announced it had signed up to COVAX on Oct 8. It had earlier pledged its support and committed to setting affordable prices for vaccines developed in the country.
  COVAX would also allow participating countries to buy enough vaccine to eventually cover as much as half of their populations. Few developed countries are buying that much from it, choosing instead to secure their own supplies, but many are using COVAX as something of an insurance for any overflow.
  So far, 184 countries have signed up to COVAX.
  The United States is the only major economy to say it will not join the effort. The administration of US President Donald Trump has said it will not be "constrained by multilateral organizations" influenced by the World Health Organization. In the global fight against COVID-19, it sometimes feels like it is the US versus the world.
  At least four Chinese biotech companies are carrying out late-stage trials for their COVID-19 vaccines in countries around the world.
  Sinovac, which is developing CoronaVac, is testing its vaccine in China and Brazil. The governor of Sao Paulo state told reporters on Oct 19 that CoronaVac is the safest of the various vaccines Brazil is testing.
  Sinopharm, which is developing two vaccines, is also testing one in Brazil as well as in Bahrain and the United Arab Emirates. The company has reportedly agreed to carry out trials in Peru, Morocco and Pakistan.
  CanSino Biologics is testing its vaccine in China and Saudi Arabia and has a partnership with Russia.
  Along the same lines, China's BGI Genomics, the largest genetic testing company of its kind, is opening a plant in Ethiopia to provide COVID-19 tests in Africa.
  Other global pharmaceutical companies, including Moderna, AstraZeneca and Johnson & Johnson, are testing vaccines in multiple places.
  Even after the vaccines are approved, manufacturing and distribution will be a challenge. Testing a vaccine in multiple countries is one thing, and manufacturing in multiple places is quite another, while transportation and delivery also pose a challenge.
  Not all countries have the facilities to manufacture vaccines or the infrastructure in place to distribute them-infrastructure such as effective cold chains to keep the vaccines in good condition and safe, and the ability to ensure that recipients get the expected two shots that most vaccines will likely require.
  Vaccine nationalism has already emerged as a concern, even before trials are concluded. Rich nations have committed to buying huge numbers of doses. Poor nations, not so much. In Africa, for example, vaccines are only being tested in South Africa-the country is testing vaccines being developed by US company Novavax and the United Kingdom's Jenner Institute.
  The desire to protect a domestic population first is understandable, but losing sight of the fact that the world is now, more than ever, globalized may be counterproductive.
  Vaccine nationalism could both shape and slow down the global response to COVID-19.
  Getting past the barriers created by the unilateral efforts of countries to secure vaccines for their own people first and prioritizing a coordinated global response will ultimately be the key to getting the entire world back to some kind of normalcy sooner rather than later.
  The alternative, the one we are heading toward now, is a splotchy response that results in some countries opening up first and others, more likely the poorer ones, being left behind.
  The writer is the managing director of Bahati Ltd, a Hong Kong-based editorial services consultancy. The views do not necessarily reflect those of China Daily.
  By Alfred Romann | China Daily Global | Updated: 2020-11-04 09:11