Back to the other cross-border crisis
---
With climate threat, China and EU lead green push for recovery from pandemic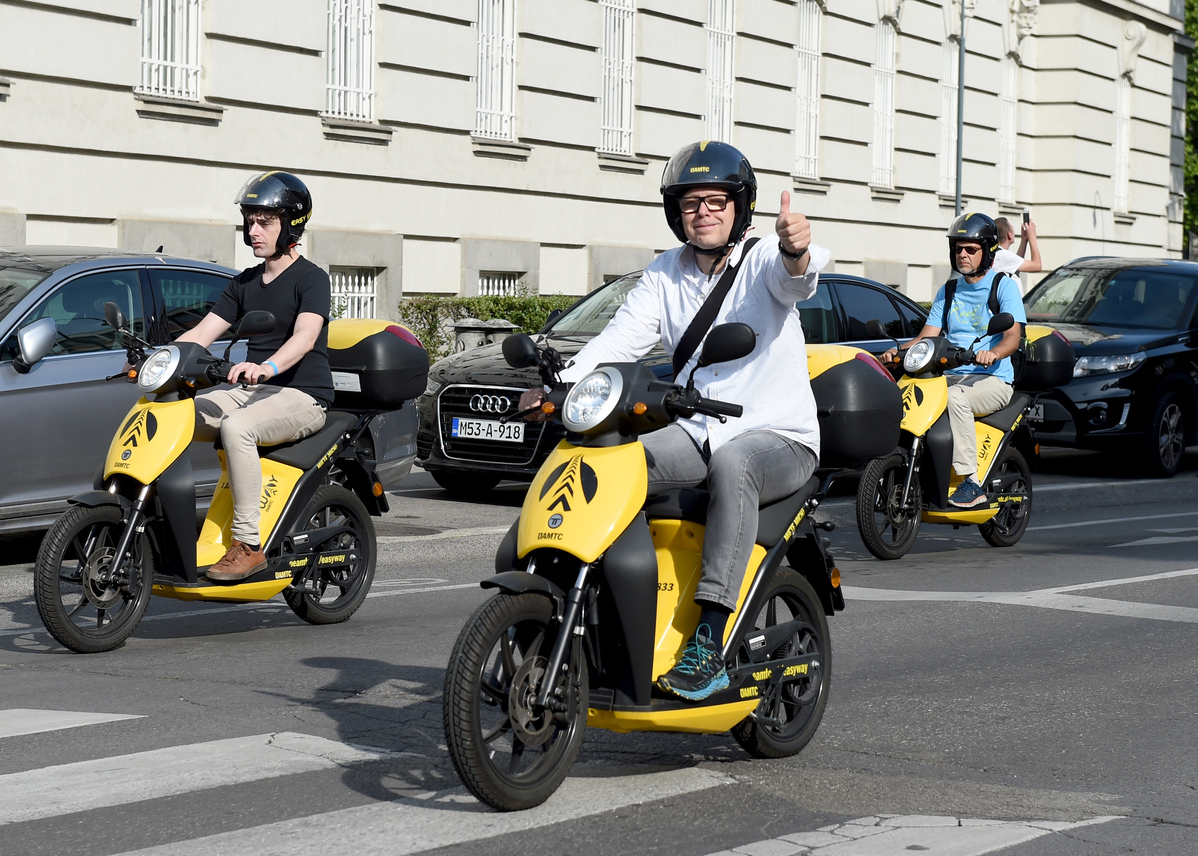 Electric vehicles, such as these on the streets of Vienna, Austria, on Sept 13, are being promoted to reduce emissions. GUO CHEN/XINHUA
  With climate threat, China and EU lead green push for recovery from pandemic
  In 2018, exactly one century on from the 1918 flu pandemic, there was no shortage of articles warning us that we were due another world-altering disease crisis. The headlines have since proved to be eerily prophetic. For some time it was commonly heard-falsely-that pandemics hit every 100 years (they occur more frequently).
  Journalists are now running with the idea that we might be in for a decade similar to the roaring 20s, a post-pandemic boom period in which people reveled in a return to social freedoms and prosperity. But some onlookers are nervous that if we get back to business as usual, we run the risk of exacerbating a different kind of shared threat.
  David King, a former chief scientific adviser to the United Kingdom government, said it is imperative that world leaders design COVID-19 recovery strategies that mitigate emissions of greenhouse gases in order to avoid environmental disaster.
  "The thinking around the pandemic, which is a global, cross-border problem, is very similar to the thinking that has to be made around climate change, again a cross-border problem," King told China Daily.
  "If you get ahead of a pandemic, if you stop it before it has got a foothold in your country, you can sail through it without much of an impact on your economy and the health of your country. And getting ahead of the problem is another issue which is critically important with climate change. And in my view, we are very late in the day to managing the climate change problem."
  It remains unclear if the pandemic has been a net positive or negative from the perspective of emissions reductions. Travel rates plunged in March and April as nations around the world entered lockdowns, and mobility is once again lower than normal in many regions. Google data shows visits to train, bus and subway stations in mid-December compared to mid-January decreased by around a fifth in Mumbai and Tokyo, a third in Madrid and Mexico City, and half in New York and London.
  In April, daily CO2 emissions plunged by around 17 percent on the previous year, lowering to approximately the same levels they were in 2006. But the World Meteorological Organization warns that emissions in 2020 overall are estimated to have declined more modestly, by around 4 to 7 percent compared to 2019 levels. And many climate scientists fear that the world could be on the brink of a significant uptick in emissions, as countries make up for lost productivity.
  "There is certainly a risk that pent-up demand for flying, consumption in all its forms and investment in fossil fuel energy could strongly rebound after the worst of the COVID-19 crisis ends, leading to rapid emissions growth," Ajay Gambhir, a climate economist at Imperial College London, told China Daily.
  From a policy perspective, 2020 has been an encouraging year for climate change, with the UK, the European Union, and China all outlining far-reaching environmental platforms. Gambhir posits that the year of the pandemic has made governments and citizens more receptive to confronting existential threats.
  "It is interesting to ponder whether the world would have had as great an appetite to act if COVID-19 hadn't come along and focused the world's attention on the human and economic costs of not being prepared for global risks," he said.
  China laid out its updated climate targets from the UN Climate Ambition Summit in December, two months after President Xi Jinping announced that the nation aims to achieve carbon neutrality by 2060.
  Xi said China will almost triple its wind and solar capacity over the next decade, and reduce carbon intensity by at least 65 percent by 2030.
  British economist Nicholas Stern, who is chair of the Grantham Research Institute on Climate Change and the Environment at the London School of Economics, called China's 2060 pledge "a truly historic move".
  "Investing in renewables and sustainable growth will make China more competitive and much cleaner and healthier, unlocking economic, social, and environmental benefits," Stern told China Daily. "China is already a leader in technologies of the emerging green economy, for example batteries, solar photovoltaic cells, and electric vehicles.
  "If structured well, this low-carbon growth pathway can give rise to accelerated technology innovations, building the foundation for its long-term economic prosperity and competitiveness."
  Moving forward, Stern said he would like to see the elimination of power produced from coal, which he said should be made easier as the cost of renewable energy continues to fall.
  "Coal is now no longer the cheapest option for energy but instead the most expensive fossil fuel in the world," he said. "At the heart of China's early peaking and its new growth story, the most critical strategic decision will be to stop building new coal-fired power plants."
  Policy updates
  The EU also closed out 2020 with significant updates to its climate policy, with member states agreeing to cut emissions by 55 percent from 1990 levels over the next decade.
  Looking ahead, two pivotal events in 2021 are set to have a major impact on global climate policy. The first comes in March, with the release of China's 14th Five-Year Plan (2021-25).
  China's five-year plans are a set of social and economic initiatives that act as a blueprint for national development strategies for the period. The five-year plan is arguably one of the most influential documents when it comes to climate change.
  China accounted for around 6 percent of global renewable energy investment at the turn of the century, and transformative measures on energy consumption and emissions in the last three five-year plans saw an unprecedented surge in green development.
  China invested $758 billion in renewable energy capacity between 2010 and mid-2019, more than any other country or region and representing almost a third of the global total, according to the UN Environment Programme.
  "China has a huge opportunity to steer its own economy, as well as several surrounding economies, toward sustainability in its 14th Five-Year Plan," said Gambhir. "Its Belt and Road Initiative is so geographically vast, impacting on infrastructure and energy networks in so many countries, that it has a huge opportunity to grasp the initiative to embed low-carbon energy infrastructures in these regions."
  Xi's speech at the UN General Assembly in September provided a glimpse into how climate concerns will factor into the 14th Five-Year Plan. In the speech, he encouraged all nations to join China in striving for the "green recovery of the world economy in the post-COVID era".
  The second standout event in the 2021 climate policy calendar will take place in Glasgow, Scotland, in November, when the UN will hold its Climate Change Conference, or COP 26.
  The conference was due to be held in 2020, before the COVID-19 outbreak forced its postponement. World leaders will negotiate international actions to decarbonize at the event, which will play a crucial role in maintaining country commitments to the Paris Agreement on climate change. Notably, a United States delegation could be in attendance, as the nation appears set to rejoin the Paris accord.
  As part of a five-year cycle, nations that signed the agreement were expected to deliver revised national determined contributions, or NDCs, by the end of 2020. These are outline the efforts each country will make to cut emissions and adapt to the impact of climate change.
  In an earlier interview with China Daily, the executive secretary of the UN Framework Convention on Climate Change, Patricia Espinosa, said she had hoped that around two-thirds of the Paris pact signatories would submit revised NDCs by the end of 2020, "however it has become evident that in many places, those processes have been slowed down".
  King said that in the run-up to COP26, "the world could not have hoped for two better things to have happened", in reference to the prospective reentry of the US into the agreement and China's recent ambitious climate pledges.
  "China and the United States working together on this issue, which is a possibility now, gives me some hope that we can manage this massive problem as we move forward," he said.
  By ANGUS MCNEICE in London | China Daily | Updated: 2021-01-06 10:19