Biden may rescind terrorist label on Houthis
---
The new US President Joe Biden may soon rule on the designation of Yemen's Houthi group as a "foreign terrorist organization", a decree his predecessor Donald Trump made.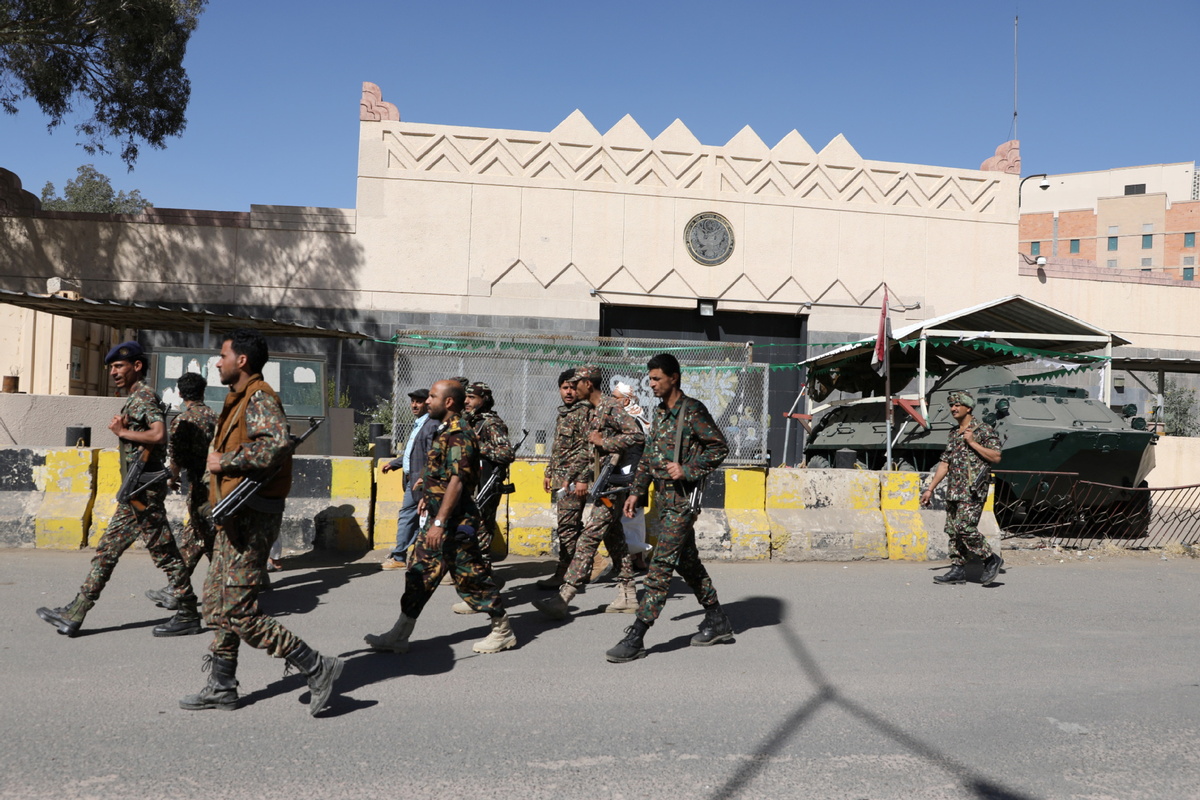 Houthi soldiers walk past the the US embassy's gate following a demonstration against the United States over its decision to designate the Houthis a foreign terrorist organisation, in Sanaa, Yemen, Jan 18, 2021. [Photo/Agencies]
  The new US President Joe Biden may soon rule on the designation of Yemen's Houthi group as a "foreign terrorist organization", a decree his predecessor Donald Trump made.
  Experts and analysts say this move would complicate the United Nations-brokered peace plan and international aid efforts in the impoverished Arab country. The former US secretary of state Mike Pompeo said the "terrorist designation of Houthis" in Yemen acknowledges its "terrorist activity" and seeks to deter further "malign activity".
  Pompeo declared the Houthis a "foreign terrorist organization" on Jan 10. He said he also intended to designate three leaders of the Iran-backed group as "specially designated global terrorists".
  These designations took effect on Tuesday, one day before Biden took office, with the Houthis warning they would respond to any action against them.
  Following the ruling, for fear of being involved in supporting a "terrorist" group, humanitarian organizations and commercial companies said they would stop dealing with Houthi authorities in northern Yemen who largely control relief and commercial activities in that area.
  "It's clear that the decision is likely to have serious humanitarian and political repercussions," said Stephane Dujarric, spokesman for UN Secretary-General Antonio Guterres.
  Dujarric has called for the US to ensure that licenses and exemptions are granted so humanitarian assistance continues to reach people who need it and the private sector can continue to function in order to stave off economic collapse and large-scale famine.
  Dominik Stillhart, director of the International Committee of the Red Cross, said it is concerned about the possible "chilling effect" the designation may have on humanitarian action, leading to it being impeded or delayed.
  "Increased operational risks and possible de-risking from the banking and private sectors in response to the designation ultimately may constrain the humanitarian response in Yemen," he said.
  Mark Lowcock, the UN undersecretary-general for humanitarian affairs, said the designation is likely to lead to "a large-scale famine on a scale that we have not seen for nearly 40 years" because data has shown that 16 million of Yemen's 30 million people will go hungry this year.
  Stressing that the terrorist designation has companies pulling back from dealing with Yemenis, Lowcock warned that famine will not be prevented by the licenses the US has said it will introduce.
  "What would prevent it? A reversal of the decision," Lowcock said.
  Humanitarian crisis
  And the Biden administration is indeed considering doing so, with the State Department initiating a review on Friday.
  Antony Blinken, Biden's nominee for secretary of state, said on Tuesday he would review Trump's labeling of the rebels, fearing the move was worsening a humanitarian crisis.
  "At least on its surface, (the designation) seems to achieve nothing particularly practical in advancing the efforts against the Houthi rebels and to bring them back to the negotiating table while making it even more difficult than it already is to provide humanitarian assistance to people who desperately need it."
  Zou Zhiqiang, a researcher at the Middle East Studies Institute of Shanghai International Studies University, said the designation would not help solve the problem in Yemen.
  "It may stimulate the Houthis to adopt a more radical policy that is uncompromising, and to launch more irresponsible attacks," he said.
  If such attacks happen, Zou said, the Yemeni government and Saudi Arabia will have to deal with a more difficult situation.
  However, Abdul-Rahman Barman, a Yemeni human rights advocate and director of the American Center for Justice, said the US designation could be in the interest of Yemen's government and the Saudi Arabia-led coalition.
  Saudi Arabia has led an Arab coalition that intervened militarily in Yemen and began carrying out airstrikes against the Houthis in March 2015, in support of the Yemeni President Abd-Rabbu Mansour Hadi and his internationally recognized government.
  "It will positively serve them through giving the anti-Houthi factions more justification as well as motivation to continue military operations against the rebels," Barman said.
  Yemen's internationally recognized government has accused the Houthis of "causing the worst humanitarian crisis in the world that has affected millions of innocent Yemenis".
  The government said the designation of Houthis as "terrorists should be viewed as an effective tool to stop their deplorable behavior, and whose application is not designed to negatively impact the conduct of relief and humanitarian operations".
  Xinhua contributed to this story.
  By LIU XUAN | China Daily | Updated: 2021-01-25 10:29