Pandemic blamed for rising US gun violence
---
Arms sales surge amid COVID-19, political unrest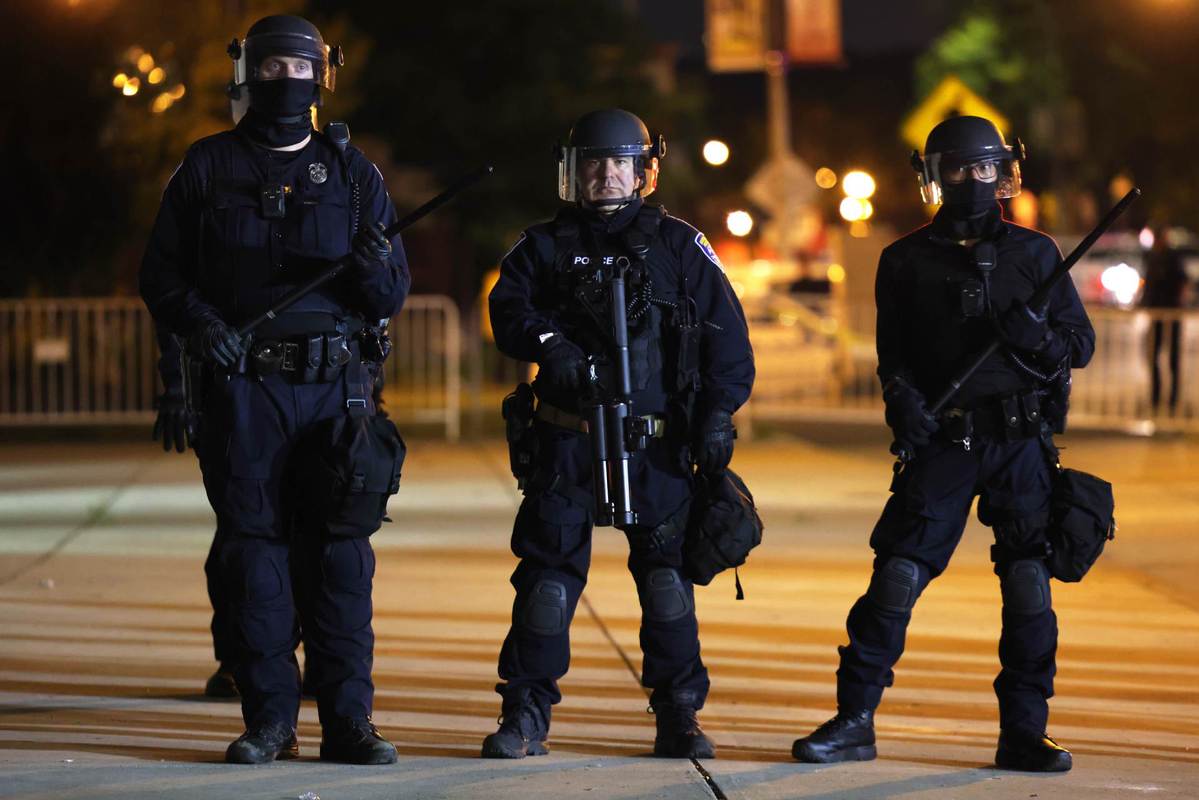 Police officers stand in formation during a standoff with demonstrators in front of the Public Safety Building on September 7, 2020 in Rochester, New York. [Photo/Agencies]
  Arms sales surge amid COVID-19, political unrest
  Mental imbalance. Poverty. Wild West syndrome. Alcoholism. Too many guns.
  All these factors and more have been seen for decades as causes of gun-related homicides in the United States, which has the most-armed civilian population in the world.
  Now police, government officials, criminologists, social workers and mental health experts are saying that last year a new factor helped fuel gun violence and gun sales-the pandemic.
  As the number of people in the US killed by COVID-19 approaches 400,000 and health officials try to vaccinate millions to stem the surge, the country has seen gun sales and related violence rise since the early stages of the pandemic.
  New case numbers show no signs of falling, according to law enforcement authorities, who fear they could worsen as the virus continues to escalate. There is also the fear that the storming of the Capitol building in Washington on Jan 6 could lead to civil unrest, with people buying guns to protect themselves.
  Brandon Wexler, owner of a gun store in Delray Beach, Florida, told ABC News in a report on Dec 18, "When COVID initially hit the streets in the United States of America, business really started to take off."
  Jimmy Gong, owner of Jimmy's Sport Shop in Mineola, Long Island, about 32 kilometers east of Manhattan, also said he has seen a boom in gun sales.
  "It's the pandemic and the instability of our government," he said, pointing to the storming of the Capitol. "People are scared."
  At Gun for Hire in Woodland Park, New Jersey, an employee who answered the phone on Jan 16 but would not give his name, said there had been a four-hour wait that day to use its indoor shooting range.
  Asked why there were so many customers, he said, "The main reason is the pandemic", adding, "People are scared."
  According to the 2019 Small Arms Survey, there are more than 393 million guns in the US. That is more than one-third of all civilian-owned guns in the world, making the US the No. 1 country in terms of gun ownership.
  Texas had the most registered guns-830,109-and Rhode Island, the smallest state, the lowest number, with 4,784.
  US firearms dealers reported record sales last year, with an estimated 21 million guns sold, up by 73 percent year-on-year, according to an analysis of FBI background check data by The Trace, an independent investigative news site.
  The Brookings Institution estimates 3 million more firearms have been sold since March on top of the number normally sold during this period, with half of this total being seen in June alone.
  In New York City, where it can take more than a year to get a firearms license, the police department said applications for gun licenses nearly doubled last year.
  It said that for the first six months of last year it received 3,830 applications for handguns, rifles and shotguns compared with 2,012 in the same period the previous year-a 90 percent rise.
  Last year, Chicago, New York and other US cities saw sharp rises in gun violence from late spring.
  From May to June last year, homicides in 20 major US cities rose by 37 percent, led by Chicago, Philadelphia and Milwaukee, according to the Council on Criminal Justice, a nonpartisan think tank. These rises coincided with the end of pandemic-related shutdowns, mass unemployment due to the outbreak, mass protests condemning anti-Black police violence, and the summer, when crime each year increases.
  Homicides and shootings in New York City rose sharply last year, NYPD officials said.
  Police resources were stretched thin by the pandemic and by responses to large-scale protests over the death in May of George Floyd, an African American allegedly killed in Minneapolis by a white police officer.
  The number of murders in New York City rose to 462 last year, up by nearly 45 percent from 319 in 2019.It was the city's bloodiest year in nearly a decade, according to the police department.
  The murders were accompanied by the biggest rise in gun violence for 20 years, according to police statistics.
  Data show the number of shooting victims in the city more than doubled to 1,868 last year, up from 923 in 2019.
  Police Department officials said head count was reduced after hundreds of officers contracted COVID-19 in the spring. Summer protests over Floyd's death also strained the department's workforce, the officials said.
  "I can't imagine a darker period," Police Commissioner Dermot Shea said in a year-end briefing with reporters, citing the influence of the pandemic and the protests.
  Shea and New York City Mayor Bill de Blasio also cited a number of other factors fueling the rise in shootings and killings in the city.
  Changes to laws allowing bail, slowdowns in court proceedings and a reduced number of arrests have been cited by law enforcement officials, politicians and criminologists as factors fueling the rise in violent crime.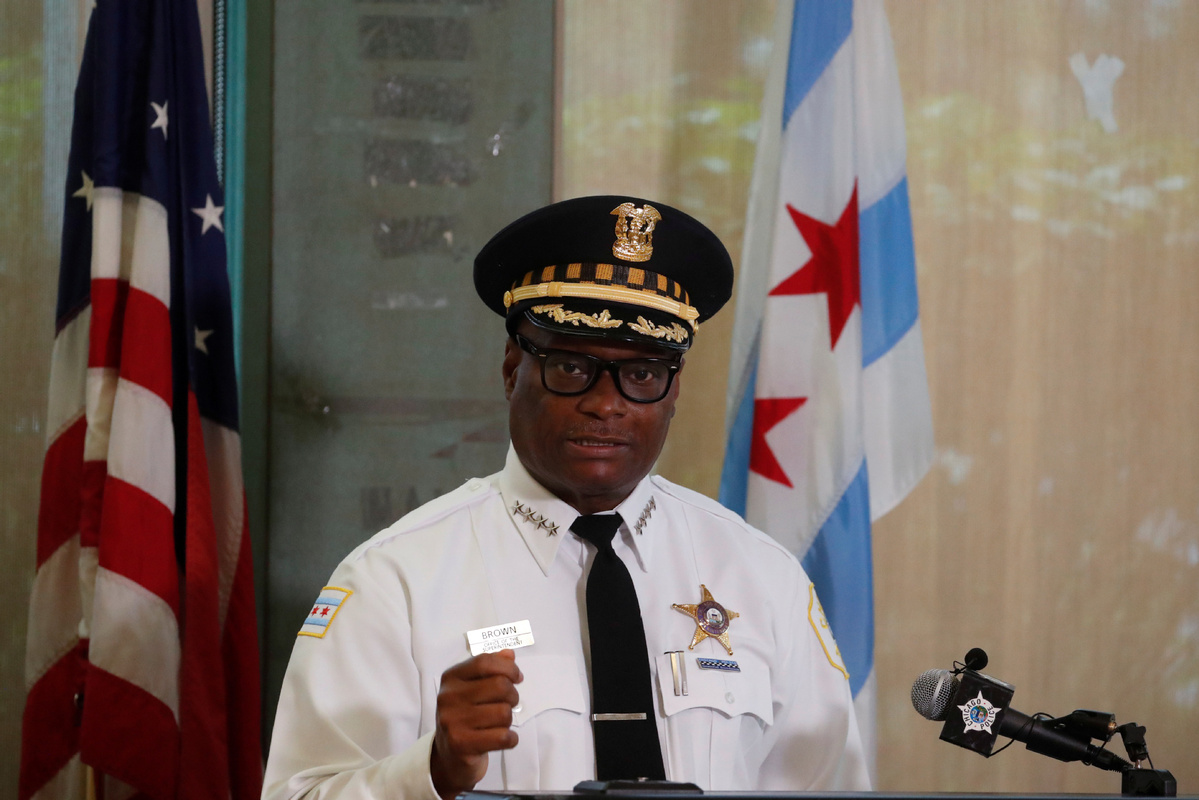 Chicago Police Department Superintendent David Brown speaks during a news conference in Chicago, Illinois, US, July 27, 2020. [Photo/Agencies]
  Gang violence
  Police Department officials in New York City have also pointed to rising activity among gangs as a factor in about half the shootings in the city.
  From March to May last year, in the first three months of the pandemic, researchers from the University of California, Davis, and the University of California Firearm Violence Research Center estimate there was an 8 percent rise in firearms violence, with 776 additional injuries or deaths nationwide.
  "We find a significant increase in firearm violence in the United States associated with the coronavirus pandemic-related surge in firearm purchasing," findings published by the researchers stated. The findings have been publicly released, but have not yet been peer reviewed.
  The study's authors noted that the rise in sales alone likely did not fully explain the increased violence.
  "The pandemic has exacerbated factors that contribute to interpersonal violence, including financial stress, tension, trauma, worry and a sense of hopelessness," they wrote.
  Julia Schleimer, the study's lead author and a UC Davis data analyst, said: "All of that can make people feel on edge, hopeless. Again, the trauma is something that drives violence, so it's important to recognize all of those contributing factors."
  Samantha Meltzer-Brody, psychiatry department chair with the School of Medicine at the University of North Carolina at Chapel Hill, also attributes the rise in violence in large part to the pandemic and the additional stress it has caused.
  "I think all of us have increasing concerns that the longer this (the pandemic) continues, it will continue to have a greater toll on people's emotional well-being, their mental health, and it will lead to more and more destructive ways of coping for those that are in a vulnerable place," she said.
  The pandemic alone does not cause violence, Meltzer-Brody said, but it can inflame existing anxiety, stress or tension. Even before the pandemic, the US was facing what many health experts call both mental health and gun violence epidemics.
  Existing pattern
  Health experts said their biggest concern is what could happen as the pandemic takes a higher toll across the country.
  Joseph Williams, medical director for the addictions detoxification unit at UNC Wakebrook, a mental health hospital operated by UNC-Chapel Hill, fears that as the pandemic continues, gun-related violence and homicides will rise.
  "You have this pattern that already exists, where in the summer months, there is an increase in the violence rate and the homicide rate in this country," he said. "And I think it likely that this will get worse before it gets better."
  In December alone, US citizens bought an estimated 1.45 million guns, according to an analysis of FBI data. The seasonally adjusted figures comprise about 860,000 handguns and 590,000 long guns (rifles and shotguns).
  Law enforcement authorities associate rising violence with mounting firearms purchases.
  The study by the University of California, Davis, and the University of California Firearm Violence Research Center links rising firearms sales to more violence.
  During the first two months of widespread stay-at-home orders due to the pandemic, many cities appear to have seen a reduction in homicides-the majority of which are shootings.
  However, it now appears that homicide rates are rising again as many states reopen, signaling that any reduction in these numbers was short-lived.
  Data show homicides fell in a few cities at the start of the pandemic, possibly due to reduced interpersonal interactions as people complied with stay-at-home orders. However, more recent data point to a rise in violence when compared with similar months in previous years.
  There tends to be more violence in summer than in winter, but early indications show there was a rising number of such incidents last summer than in recent years.
  Data from the Gun Violence Archive show that 69 homicides were linked to mass shootings in June. From 2017 through 2019, there was an average of 40 such homicides in June.
  The Gun Violence Archive defines a mass shooting as an incident in which four or more people are shot or killed.
  Few studies have looked at how the pandemic has specifically impacted violence. However, a study of 64 large US cities found that homicide rates in April and May were lower last year compared with the average rates for those months from 2017 to 2019.
  The researchers said the rising number of people staying home contributed to the decline.
  The research was carried out for the philanthropic group Arnold Ventures by Thomas Abt, a senior fellow with the Council on Criminal Justice, and Richard Rosenfeld, professor emeritus of criminology and criminal justice at the University of Missouri St. Louis.
  "Crime requires opportunity," they wrote. "Without victims there can be no offenders. As more people stay indoors, opportunities for street crime decline."
  While the overall homicide rate declined for the 64-city sample, it did not fall in every city. The study found that such rates fell in 39 cities, but rose in 25.
  In a June interview, Rosenfeld said it was likely that as states relax stay-at-home orders, they could see more homicides.
  Smith & Wesson, one of the leading US gun manufacturers, reported major rises in sales and profit in the three months ending Oct 31, just days before Joe Biden became US president-elect.
  The 168-year-old company said sales more than doubled to $248.7 million, compared with $113.7 million in the same period a year ago. Net income was $52.2 million for the three months, compared with $1.3 million for that period in 2019, the company said.
  Chief Executive Officer Mark Smith said it was the company's second consecutive record-breaking three-month period.
  He said the boom in gun sales is being spurred by politics, the promise by Biden to push for stricter gun control laws, and new buyers, including African Americans, as the fastest-growing group of gun owners.
  During his election campaign, Biden, who owns a shotgun, declared gun manufacturers "the enemy" and has vowed to introduce sweeping new restrictions on guns.
  Proposals to control guns will require legislative action, which in the narrowly divided Congress will be hard to carry out. Then there is the National Rifle Association, which claims 5 million members and has lobbied Congress against any changes in gun laws.
  On Jan 15, the NRA said it had filed for bankruptcy and was moving its headquarters to Texas, where it says it has 400,000 members.
  The association is currently based in New York, where the state attorney general has filed a lawsuit alleging financial crimes by its top officials and is seeking to disband the organization.
  In May, the NRA laid off dozens of employees and shut down fundraising and its national convention amid the pandemic.
  Smith said a fear of gun control regulation "drives a lot of our consumers to go out and buy firearms".
  Robert Boyce, a retired New York Police Department chief of detectives, told ABC News, "I don't know what laws will be passed, but that's got people (thinking)'buy my gun now or I'm not going to be able to get it again'."
  By AI HEPING in New York | China Daily Global | Updated: 2021-01-18 07:31