Work together on virus attests to China ties
---
China and Russia have maintained close relations in a challenging year, with experts describing high-quality cooperation in bilateral and multilateral spheres that has helped the two to weather the coronavirus pandemic.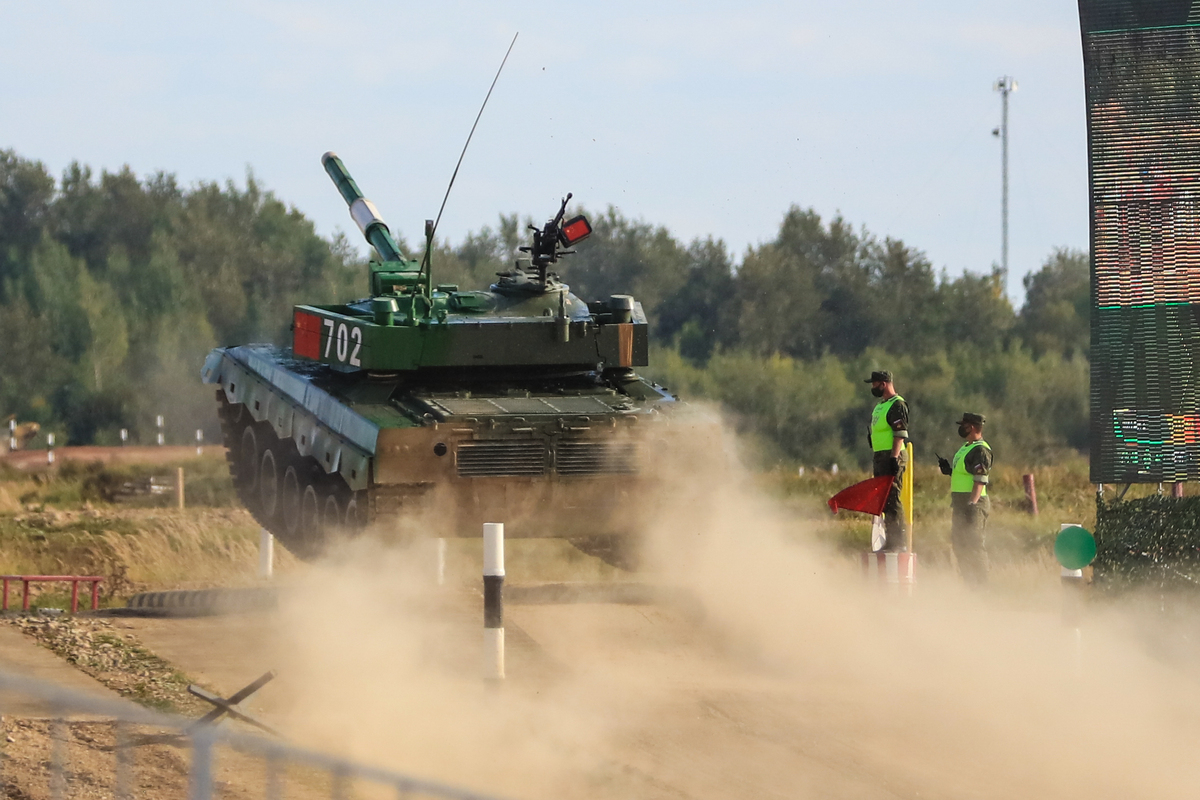 A Chinese team competes in the International Army Games 2020 at Russia's Arabino shooting range. REN QI/CHINA DAILY
  China and Russia have maintained close relations in a challenging year, with experts describing high-quality cooperation in bilateral and multilateral spheres that has helped the two to weather the coronavirus pandemic.
  On the trade front, the emergence of COVID-19 triggered a massive slump in trading volumes between the neighbors in January, the 2020 China-Russia Economic Trading Index Report indicated.
  But with supportive policies and the Sino-Russian Comprehensive Strategic Partnership of Coordination for a New Era, trade between the two countries managed to recover from that rocky start to the year. Bilateral trade reached $25.35 billion in the first three months of 2020, a 3.4 percent rise compared with last year. The Chinese General Administration of Customs says that in September the figure was $10.22 billion, a rise of more than 7.8 percent from September last year.
  The cooperation and mutually supportive policies brought in to counter the pandemic have been a highlight of the neighbors' relationship this year. In August, when the number of coronavirus infections in Russia began to grow again, China sent medical experts to Moscow at the invitation of the Russian government.
  The 10-member group, including epidemiologists from the Chinese Center for Disease Control and Prevention as well as hospitals and medical institutes in the Heilongjiang province, visited hospitals in the Russian capital. Among the facilities they visited was the main hospital designated for COVID-19 treatment, Kommunarka.
  Hao Huilong, leader of the team and vice-chairman of Heilongjiang Provincial Committee of the Chinese People's Political Consultative Conference, said the experts hoped their visit contributed to an improved COVID-19 situation in Russia.
  Oleg Timofeev, an associate professor at the Peoples' Friendship University of Russia, said the arrival of the Chinese team was a much-appreciated gesture of support and followed a visit by Russian medical experts to China in February, during the height of China's battles with the coronavirus. Timofeev said China and Russia share deep expertise in healthcare and on control of epidemics. Such expertise heightens the value of their work together.
  Chinese Ambassador to Russia Zhang Hanhui said that at the outset of the pandemic, the authorities and diplomatic agencies of China and Russia established a mechanism for direct communication in facilitating the reporting on developments in the control and treatment of COVID-19.
  Russia's State Research Center of Virology and Biotechnology VECTOR and China's Biological Science Center of the Ministry of Science and Technology were among organizations that established direct contact as a means of aiding cooperation on virus tracing, laboratory diagnosis and vaccine development, Zhang said.
  On April 16, Russian Prime Minister Mikhail Mishustin approved the use of hydroxychloroquine, a drug made by the Chinese company Shanghai Pharmaceuticals that had been best known as an anti-malaria treatment, for COVID-19 treatment. This approval came even though the drug was then not registered in Russia. Mishustin's order showed the unconditional trust that the Russian government places in China's medical capabilities, Timofeev said.
  At present, the pandemic is making it difficult for the neighbors to implement some of the major bilateral projects that have been planned, Timofeev said.
  But China and Russia can focus on preparing for new projects and pursue cooperation to this end, such as by staging online investment roadshows, holding events via video conferencing, and proceeding with feasibility studies into projects, he said.
  Timofeev suggested that the two governments can increase financial and other support for scientific research institutes and universities under the 2020-21 China-Russia Year of Scientific and Technological Innovation, while enhancing cooperation in high-technology fields.
  Frequent exchanges
  In the military realm, the armed forces of China and Russia have maintained close relations, marked by frequent exchanges between personnel. Ninety-five soldiers from China's People's Liberation Army honor guard participated in Russia's Victory Day parade in Moscow on June 24.
  In August, the PLA sent six teams and more than 260 soldiers to participate in the International Army Games 2020 in Russia. In September, Chinese troops joined with those from nine other nations for a week-long military drill, known as Kavkaz 2020, in southern Russia.
  During a video link on Dec 15, Chinese Defense Minister Wei Fenghe and his Russian counterpart Sergei Shoigu agreed that they would further build up strategic contacts and coordination between the armed forces of the two countries, improve the mechanisms of military cooperation, and expand interactions more broadly in order to confront the challenges to regional and global security.
  In addition to the comprehensive framework of bilateral relations, Russia also maintains close communication with China under multilateral organizations, such as the Group of 20 industrialized nations and the Shanghai Cooperation Organization. The two nations are also key members of the grouping that binds Brazil, Russia, India, China and South Africa-known as BRICS.
  Alexey Ivanov, director of the BRICS Competition Law and Policy Centre, said China and Russia intend to pursue joint solutions to economic problems, such as remedying global economic imbalances. This is especially needed while businesses recover from the upheavals of lockdowns.
  As the global balance of power shifts, Russia is seeking to strengthen its already friendly relations with China. "The BRICS framework provides an effective platform for our countries to develop common decisions and to fight jointly the economic impacts of the pandemic," Ivanov said.
  By REN QI in Moscow | China Daily | Updated: 2020-12-28 09:29