Expo holds out hope of bright days ahead
---
Shanghai has succeeded in staging fair despite the global ravages of COVID-19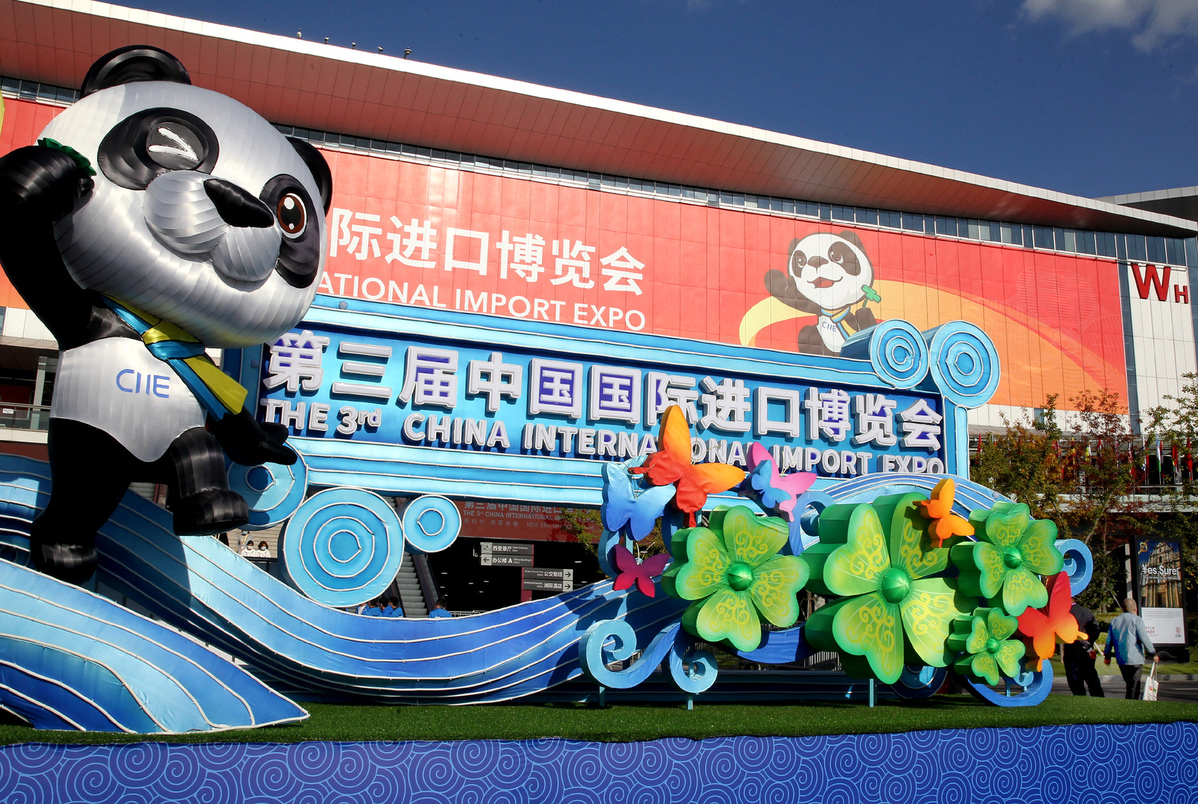 Photo taken on Nov 3, 2020 shows mascots of the 3rd China International Import Expo (CIIE), in East China's Shanghai. [Photo/Xinhua]
Shanghai has succeeded in staging fair despite the global ravages of COVID-19
  China's promise to further open its markets is giving a fillip to the world economy, hard hit by the COVID-19 pandemic.
  This comes as the third China International Import Expo is being held in Shanghai.
  In an address to the expo on Thursday, Chinese President Xi Jinping vowed to remain steadfast in further opening up, announcing an array of new measures for expanding all-round opening up.
  Talat Shabbir, director of the China-Pakistan Study Centre at the Institute of Strategic Studies Islamabad, said a key message of Xi's speech was that China aims to be "a market for the world".
  "Xi highlighted that during the next decade China would import goods worth more than $22 trillion from across the world. It is an important message because in a world hit by the COVID-19 pandemic, more trade will fuel global economic growth and recovery.
  "CIIE is an important platform for countries such as Pakistan to connect with Chinese businesses and firms."
  The expo, which ends on Tuesday, highlights China's demand for quality goods and services, Shabbir said.
  "Pakistani businesses can benefit by linking up with Chinese companies and businesses to meet demands of Chinese businesses as part of the China-Pakistan Economic Corridor, a flagship project of the Belt and Road Initiative that is gearing up for industrialization in Pakistan," he said.
  Lau Kiat Boon, founder of the Singaporean tea company Fort Sanctuary, said he was encouraged by Xi's remarks to the expo and was thrilled to hear that "China will keep improving its business environment".
  "For us, China is a market full of potential, and a better business environment will be the medium that connects our premium products to consumers going through consumption upgrade in China," said Lau, whose company is attending the expo for the second time.
  "As President Xi said, CIIE 2020 is a vivid example of China's willingness to share its market opportunities with the world. We value this opportunity to rebuild connections with the global business community. We are confident that the CIIE will be a springboard for us to boost the implementation of our international business expansion plans."
  Bold message
  This year's expo is one of the few and most important professional fairs to successfully take place despite the pandemic, and Claudia Vernotti, director of ChinaEU, a business-led association in Brussels, said she was encouraged by the promising future China has pictured.
  Xi's remarks are a bold message in support of economic globalization and free trade and a protector of what stands as the cornerstone of both, Vernotti said.
  "That is the multilateral trade system. It is particularly worth noting Xi's pledge to encourage cross-border e-commerce, a phenomenon which has emerged as strong as ever throughout 2020.
  "China, the greatest online retail player in the world, can represent a great opportunity for those European companies who are willing to serve the country's growing middle-class consumers."
  Rhea Vendors, one of the largest manufacturers of customized vending machines in Europe, has found the strategic importance of China's big market and had looked forward to better understanding it through the expo.
  "We are aware of the potential of the market, today the fastest growing in the world in terms of coffee consumption," said Andrea Pozzolini, chief executive of Rhea Vendors Group. "We feel encouraged in this new venture by the words of President Xi… (outlining) plans of further openness to foreign companies and improvement of the domestic business environment, also for what concerns the legal framework for foreign investors."
  Sergio Segovia, president of the Brazilian Trade and Investment Promotion Agency (Apex-Brasil), said Brazilian companies expect to expand businesses with China, Brazil's largest trading partner.
  Brazil and China have a consolidated commercial relationship, but "there is still much room to strengthen these ties", Segovia said.
  "For Apex-Brasil, the CIIE is an excellent opportunity for Brazilian companies, because it provides very close contact both with the Chinese public in general, and with specialized professionals and potential business partners.
  "The CIIE is an example of how China is open to business and integrated into global value chains."
  By YANG HAN in Hong Kong, CHEN YINGQUN,CHEN YINGQUN and LIU XUAN in Beijing | China Daily Global | Updated: 2020-11-09 09:21