Libyan Political Dialogue Forum kicks off in Tunisia
---
TUNIS - The Libyan Political Dialogue Forum (LPDF) began on Monday in Tunisia's capital Tunis.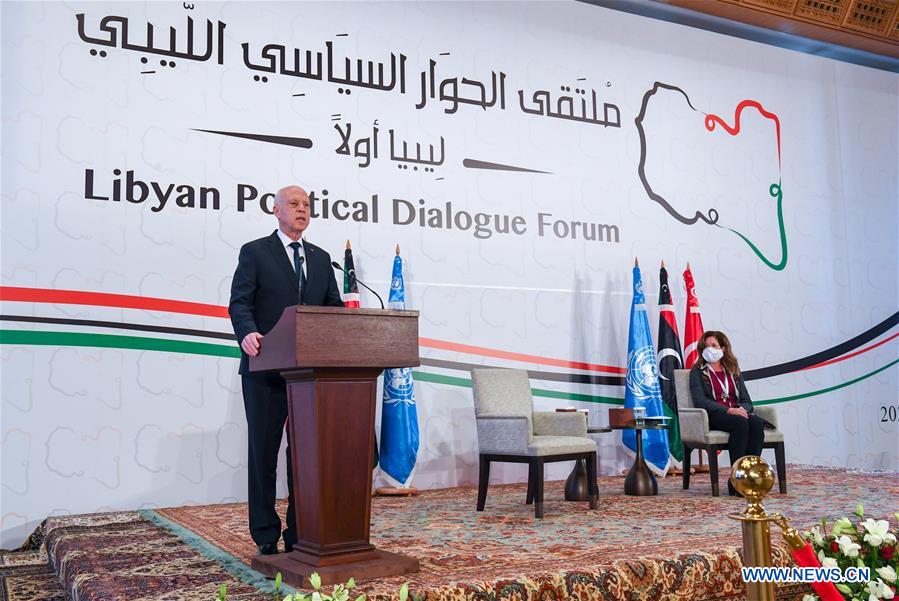 Tunisian President Kais Saied (L) speaks at the Libyan Political Dialogue Forum in Tunis, Tunisia, on Nov 9, 2020. [Photo/Xinhua]
  TUNIS - The Libyan Political Dialogue Forum (LPDF) began on Monday in Tunisia's capital Tunis.
  The six-day forum was opened by Tunisian President Kais Saied, at the presence of Stephanie Williams, acting special representative of the UN secretary general to Libya, and 75 representatives chosen by the UN.
  "We are moving forward with confidence in various possible paths, relying on the determination of the Libyans," Williams said in her inaugural speech.
  "We are firmly counting on the will of the Libyan people and on their right to protect their homeland, their sovereignty and the wealth of their country," she added.
  According to Williams, the signing of the permanent cease-fire agreement throughout Libya "has done a lot to pave the way for us to be together today, despite the critical conditions imposed by the COVID 19 pandemic in Libya, Tunisia and around the world."
  Williams expressed her confidence in the ability of the Libyan parties to participate in the forum and reach consensual solutions.
  The Tunisian president reiterated that the solution in Libya "can only be purely Libyan" and based on the agreement of all the Libyan factions.
  Saied stressed that the LPDF aims to achieve peace in Libya.
  The LPDF "is a fully inclusive intra-Libyan political dialogue established by the Berlin Conference Outcomes, which were endorsed by Security Council resolutions 2510 (2020) and 2542 (2020)," according to a statement released by the UN Support Mission in Libya (UNSMIL).
  The overall objective of the LPDF is a consensus on a unified governance framework to "restore Libya's sovereignty and the democratic legitimacy of Libyan institutions," the UNSMIL said.
  Xinhua | Updated: 2020-11-10 09:24